Each summer, the Music Theater Wichita (also known as MTWichita) put on five musicals during a ten week period, with performances taking place from Wednesday to Sunday each week. A resident company of college-aged performers and technicians work together with established professionals from Broadway and Hollywood to make it all come true. The year-round-staff is just eight people, but during the summer, MTWichita swells to include over 50 performers, 30 seasonal orchestra members, and 60+ seasonal technical staff.
Where?
Nowadays, the shows take place at the Concert Hall of the Century II Complex in Wichita's Downtown area. The Concert Hall has 2,100 seats.
Auditioning
The auditions are held in March each year, and normally attracts over a thousand aspiring singers, dancers and actors.
Musicals
Examples of musicals performed during previous seasons
Summer of 2019
Sound of Music
An American in Paris
A Chorus Line
Chicago
In the Heights
Summer of 2018
Sister Act
Guys and Dolls
Freaky Friday
Pippin
Disney's The Little Mermaid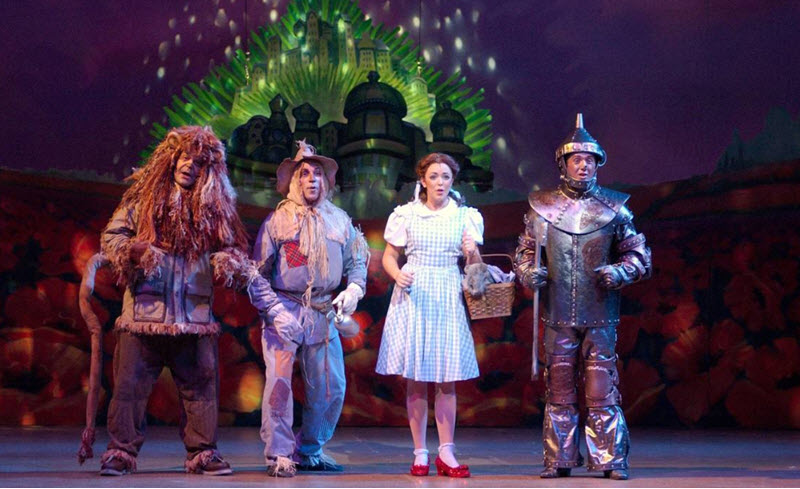 Summer of 2017
Thoroughly Modern Millie
Seven Brides for Seven Brothers
Hairspray
The Hunchback of Notre Dame
Disney's Newsies
Summer of 2016
Nice Work if You Can Get It
Disney's Beauty and the Beast
Rodgers and Hammerstein's Oklahoma!
Jesus Christ Superstar
Mamma Mia!
Summer of 2015
Elton John and Tim Rice's Aida
Disney's My Son Pinocchio
Billy Elliot the Musical
Big Fish
Hello, Dolly!
Youth programs
The theater runs several programs for young aspiring talents, such as the intern program, the apprentice program, and the Teen Choir.
There is also the Jester Awards, an annual award ceremony celebrating high school musical productions in south-central Kansas. Since 2009, two Jester recipients have been sent each year to New York to attend the National High School Musical Theater Awards (the "Jimmys").
Background
The Music Theater of Whicita was founded in 1972 by a group of local business leaders who managed to raise $100,000 to get the project going.
The very first performances, in 1972, were a Rodgers & Hammerstein Concert, a Walt Disney Family Concert, From Vienna With Love, and Man of La Mancha. For the summer of 1973, the chosen musicals were The King and I, Hello, Dolly!, The Wizard of Oz, and Die Fledermaus, and there was also a Lerner & Loewe concert.
Since the beginning, three different artistic producers have been at the helm:
Jim Miller, the theater's founding producing director, who was the artistic producer from the inception to 1979. During the Miller era, the theater relied on local teachers and performers.
John Holly, who took over after Miller in 1980. Holly shifted the company's direction by including more non-local and professional performers.
Wayne Bryan, who took over after Holly in 1988 and has remained the artistic producer since then.
Performing artists
Examples of performing artists who have spent summer with the Music Theatre Wichita:
Ashley Park
Catherine Charlebois
Chelsea Packard
Danny Stiles
Darren Ritchie
Jenni Barber
Josh Prince
Karla Burns
Kelli O'Hara
Kristin Chenoweth
Lauren Kennedy
Stanley Bahorek